Lambrou Pens art pen, the LR8 Jupiter, is now available for pre-orders!
Posted by Jim Mamoulides on February 15, 2014
We are very excited to announce that the newest Lambrou Pens art pen, the LR8 Jupiter, is available to order! It is being sold by both Lambrou Pens Inc. and a few select Trade customers including PenHero.com.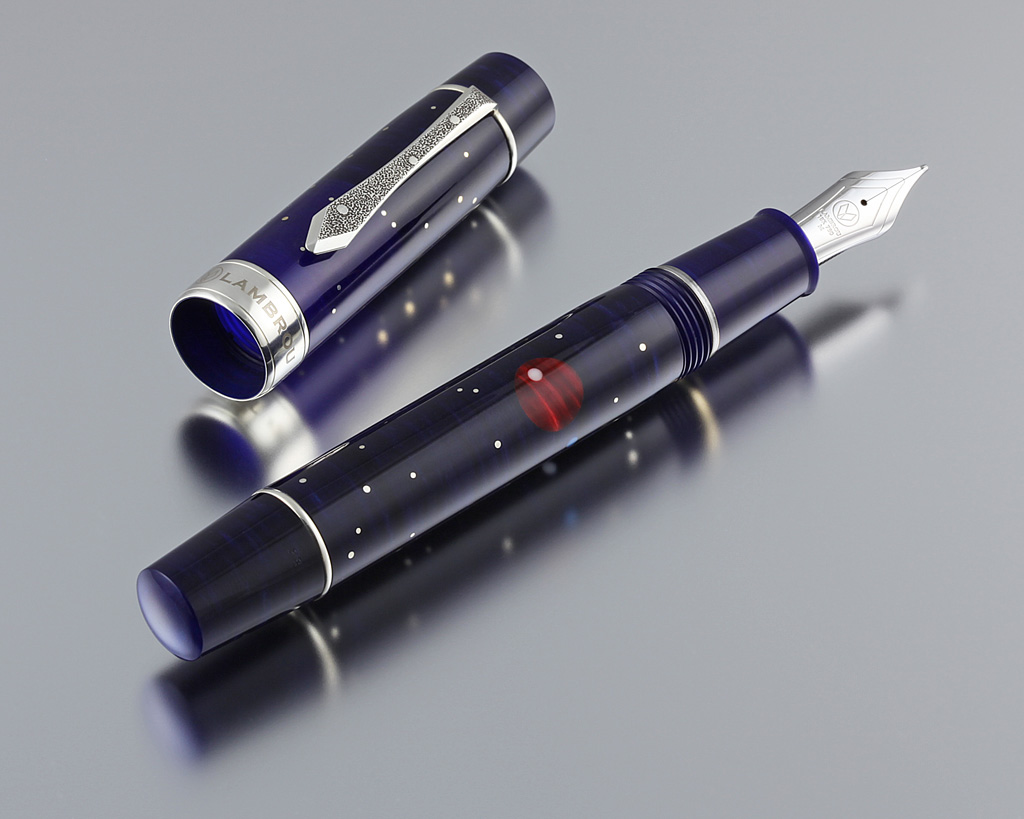 These are stunning pens, a great successor to the LB3 Jupiter.
PenHero.com has been allocated ten low Limited Edition numbers: 11 to 20.
The LR8 Jupiter is based on the Lambrou Pens Mythos® model, a large pen at 6.0 inches capped. This is the same pen model as all the other Lambrou Pens art pens.
The pen material is the exclusive Classic Pens diffusion bonded acrylic in Space Blue, ideal for a celestial pen design. More than that, it is extremely strong and stable, the pen can be used on a daily basis for many years. It will become a Family Heirloom.
The planet Jupiter is inlaid in Flame Red, another of the company's exclusive diffusion bonded acrylics.
The trim is sterling silver, with the pen and clip hand crafted by Paul Rossi. The clip front facet is textured with stars to compliment the pen composition.
There are three Constellations on the pen in large gold stars. On the cap, on either side of the clip, is Ursa Major and Ursa Minor. On the barrel is Orion. Paul Rossi completes the composition by artistically inlaying smaller silver stars on both the cap and barrel. With time, the silver trim and stars gain a wonderful patina, while the gold Constellation stars will remain bright.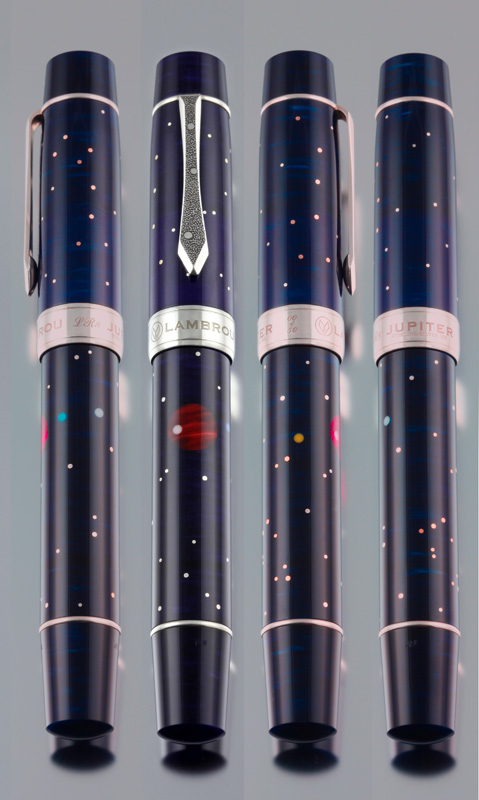 How to get one of these great pens:
The LR8 Jupiter will be launched at the Los Angeles Pen Show in February, 2015. The first LR8 Jupiter art pens are planned to be available in April, 2015.
There will be 50 art pens in this Edition world wide.
Suggested Retail for the LR8 Jupiter: $2,650.00
Pre-order price from PenHero.com will be $2,120.00
We are now accepting pre-orders for this incredible pen. Pre-orders will be at a 20% discount, with your final price being $2,120. We will need a pre-order deposit of $530.00 (25%) to commence work on your pen and to secure your Limited Edition number. The balance will need to be paid just prior to shipping your LR8 Jupiter to you.
The LR8 Jupiter carries the Lambrou Pens Inc. Lifetime Warranty. These art pens will be housed in the popular blue, solid wood boxes, with a Certificate of Authenticity, signed by Paul Rossi and Andreas Lambrou, confirming the individual limited edition number of each LR8 Jupiter art pen.
If you are interested in this pen, please contact us at orders@penhero.com or use the Contact Us link below.
Click here to go to the product page to order your own Lambrou Pens LR8 Jupiter!