Order by Phone: (919) 342-6586
Home
Sheaffer
Legacy Heritage
Sheaffer Legacy Heritage Sterling Silver Interrupted Barleycorn G/T Fountain Pen Medium
Availability: In Stock
Sheaffer Legacy Heritage Sterling Silver Interrupted Barleycorn G/T Fountain Pen Medium
SKU: 9037-0
Manufacturer: Sheaffer
Our Price: $695.00
The finest pen in the Sheaffer® line. This Legacy® Heritage pen features a solid sterling silver cap and barrel with a deeply machine engraved repeating interrupted barleycorn pattern along the length enhanced with 22 karat gold plate trim. Its distinct wide profile and signature Sheaffer design evoke a sense of true luxury. The Legacy Heritage is a distinctly modern take on the PFM design, using modern materials, finishes, and manufacturing techniques. There is no other pen on the market like it. The Legacy Heritage is a traditional top of the line fountain pen with a modern flair. Special display packaging unique to this model.

The highlight of the pen is the the famous Sheaffer Inlaid nib, introduced with the Pen For Men / PFM pen in 1959. Legacy solid 18 karat gold nibs are superb writers, with a softer, wetter touch than most of the stiff nails that pass as nibs today. They are widely noted as smooth, wet, and true width writers.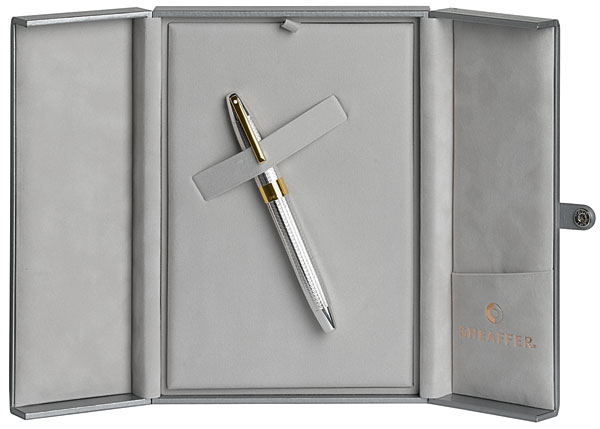 Handsomely packaged in Sheaffer's special Legacy Sterling Silver gift box. Includes removable piston converter and four Sheaffer Skrip cartridges. Sheaffer Lifetime warranty.Dimensions: 5 7/16 inches long capped / 6 inches with the cap posted on the barrel / 1/2 inch across (a large pen)
Weight: 1.5 oz (a medium to heavy weight pen)Made in the Czech Republic by
Sheaffer
E-mail a friend about this item.